Jeffrey Bergamini
Jeffrey Bergamini is a full-time faculty member in the Computer Science Department at Cabrillo College. He received B.S. and M.S. degrees in Computer Science from California Polytechnic State University, San Luis Obispo. He previously taught at Cal Poly and Mendocino College, and has worked as a programmer and systems administrator for organizations such as Microsoft, UC Davis and Lawrence Livermore National Laboratory.
Spring 2015 Courses
Schedule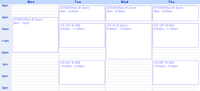 Projects
Research Interests
Computer science pedagogy, information security and assurance, geospatial computing, distributed/parallel systems, data-intensive systems, networking, self-organizing/P2P systems, operating systems
Selected Publications
J. Zhang, Q. Hart, M. Gertz, C. Rueda, J. Bergamini. "Sensor data dissemination systems using Web-based standards: A case study of publishing data in support of evapotranspiration models in California." Civil Engineering and Environmental Systems, Special Issue on Environmental Sensing, Informatics and Decision Making, 2008.

J. Bergamini and M. Haungs. "Enabling P2P Cooperative WMS Proxy Caching and Prefetching in an Educational Environment." Springer Lecture Notes Series on Geo-Information, Springer, 2007.

J. Bergamini and M. Haungs. "GeoTorrent: Optimizing GIS Web Services for Interactive Educational Use." Proceedings of the UCGIS 2006 Summer Assembly.
start.txt · Last modified: 2015-01-23 13:23 by jeffrey.bergamini@cabrillo.edu · []